CO-STARS TRIO offer the best dancing, music, and entertainment package available.

Featuring three excellent vocalists (Two chaps and one lady) who between them, also play guitar saxophone and keyboards, who when layered over some outstanding "live sound" backing tracks gives the impression of a much larger line up.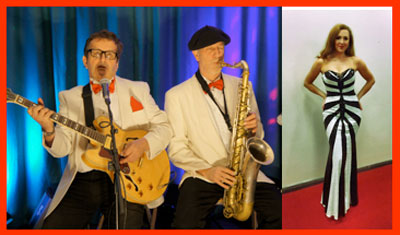 Their versatility is astounding, in addition to the 2000 songs in their existing repertoire from Swing and Rat Pack though every single classic dance era to the acceptable face of today's charts, they are happy to receive requests. Because of this breadth of styles The Co-Stars are ideal for any age group or any type of function. Also unlike most other party bands, Co-Stars perform for up to 3 hours actually live, and provide DJ intervals to keep the party going and, if necessary, live or CD for reception and dinner music.

In short The Right Music at The Right Time at The Right Volume at The Right Price!
Don't just take our word for it. See below for just some of the hundreds of commendations we have received in the last 5 years:
"Dear Bill – Just back from honeymoon and felt I had to email you straight away. We had a wonderful evening on 14th September at our wedding and the band was fantastic, thank you so much." Natasha Griffiths
"Dear Bill – Thank you so much for an excellent performance – I have had many complimentary comments about the band, the range of music played and the professionalism of all the equipment, so 'well done'; the whole evening was just perfect." Sarah Morris
"Dear Bill, Fantastic Music! Everybody is saying, "Where did you find that band? They were brilliant" You even surpassed the performance you gave when you played at my sister's wedding two years a go and you were great then! Thank again for making our wedding such fun." Cordelia & Giles

"Dear Bill – Thank you so much for an excellent performance – I have had many complimentary comments about the band, the range of music played and the professionalism of all the equipment, so 'well done' The whole evening was just perfect." Birthday Party Berkshire